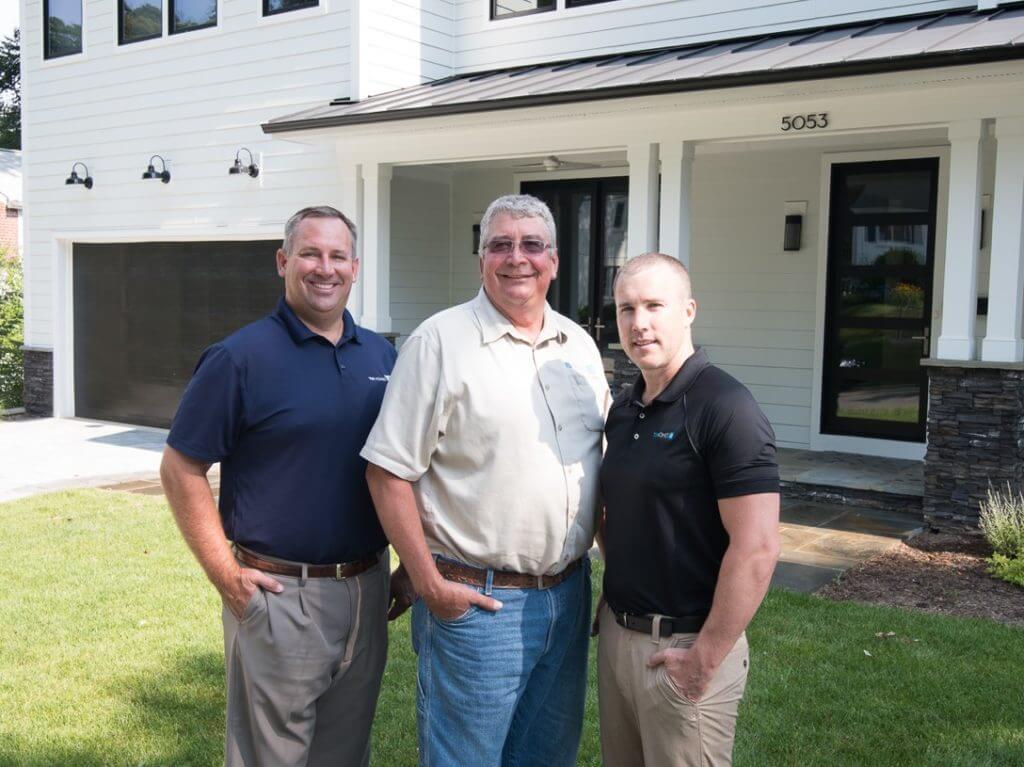 With over 75-years of design and build experience, our team has the know-how to ensure that your project delivery meets every expectations.  With TDI Homes, you will work with our design/build team from Day 1 through project fruition. 
FOUNDERS
TDI Homes was founded by Scott Clarke, Steve Lang, Mike Morgan and Matt Borszcz. Scott and Steve are experienced builders who have built dozens of homes in Arlington and Metro DC, and have over 40 years of architecture and construction management expertise. After working for other builders, Steve and Scott are combining their talents in a new venture to bring quality built, uniquely custom designed homes across Metro DC. As a buyer, you can be assured of a "been there, done that" experience factor from Design, Permit, Build, and Warranty that Steve and Scott have repeatedly delivered in their previous roles.
SCOTT CLARKE
Scott holds a "Class A" Contractor's license and after graduating from Virginia Tech with a degree in Building Construction, Scott spent 12-years at Stanley Martin Companies in a wide variety of roles and positions to include project management, architectural design, supply chain management and solutions, and customer service.
Scott started in production housing where he constructed large scale communities throughout the region, managing the construction of over 450 homes. Scott s experience in these major construction projects have given him the experience necessary to predict and manage building challenges from permit to warranty support.
Scott followed his production work at Stanley Martin's custom home division where we he spent the last several years building custom homes throughout Arlington. Here Scott found his niche in working with customers to design and build their dream homes. As Director of Construction, Scott led a team of 5 project managers building dozens of custom homes each year. Scott has routinely worked in and understands the Arlington real estate market.
JOHN MOORE
John is a highly experienced Senior Project Manager, with over 30-years in the home building industry. He moved to Houston from his small hometown in Michigan in 1982 to pursue his dream in building. Once in Texas, he began working as a master framer. It was not long before he was managing multiple construction crews and individual job sites. He was quickly promoted to Project Manager, overseeing multiple endeavors. John remained in Texas for 17-years until his company relocated to the Virginia marketplace.
Shortly thereafter, John was recruited by a national home builder, where he was a valued member of the construction management team. He won several awards in his role with Beazer Homes, including the coveted PROS award issued by the NVBIA. He remained at Beazer Homes for over 10-years before taking on the title of construction manager for a regional custom home builder. While serving a 6-year tenure at Augustine Homes, he maintained a 100% customer service satisfaction rating and won several awards for his dedication to excellence.
John has established a prodigious reputation in Metro DC among building officials and trade partners, making him one of the most desirable builders in the area. His vast experience extends to all areas in the construction industry, including but not limited to: carpentry, machinery, masonry, mechanicals, site work, and auditing blue prints. He has had the honor of serving of over 1,500 customers throughout the duration of his career. John takes great pride in his work, where customer satisfaction is of the upmost importance. He wants to ensure his homeowners receive the home of their dreams, as well as educate them throughout their home building experience. TDI Homes is lucky to have John as a valued member of the construction team!
STEVE LANG
Steve holds a "Class A" Contractor's license and has over 28 years of professional experience designing and building custom homes throughout Virginia. Prior to joining TDI Homes LLC, Steve was the Vice President of Construction for Stanley Martin Custom homes.
Steve gained the majority of his professional experience during the 14 years that he owned and operated a custom home building company operating in Northern and Central Virginia. A graduate of the Building Construction program at Virginia Tech, he has built, quite literally, hundreds of custom homes throughout his career and is proficient in all traditional as well as "Green" building practices.